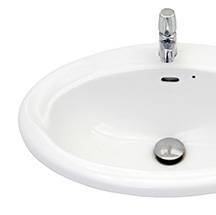 SIDOLUX PROFESSIONAL
Cleaning liquid for bathroom
An extremely effective agent to fight against the most common dirt in the bathroom. Removes traces of water, soap and scale.
Capacity: 500 ml
Buy in the online store
Description
Sidolux Professional Bathroom Cleaner is a professional cleaner for daily care of bathrooms. It works well in the fight against the most common dirt present in bathrooms. It removes water marks, raids, soap or scale deposits. Leaves a pleasant smell. Sidolux Professional bathroom cleaner has an ergonomic shape and is easy to apply even in the most difficult areas. Important! The product is not suitable for cleaning limestone and marbles.
How to use
Spray the surface with the liquid. Leave it for one minute. Polish the surface with a dry cloth or paper towel. For thicker layer of  limescale, after one minute, wipe it with a damp sponge and polish to dry. Important! When cleaning shower cabin, leave its door open.
Are you looking for other products?
See products for
Select from the list
Universal cleaning
Disinfection
Dishwashing
Kitchen cleaning
Bathroom cleaning
Floor cleaning
Floor polishing
Specialist cleaning
Furniture care and maintenance
Window, mirror and screen cleaning
Чистка ковров
Allergen control
Tombstone cleaning and maintenance
Cloths and wipers
Scented sachets
Economic agents
Pranie i płukanie