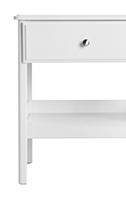 SILUX
Aerosol for furniture cleaning - classic
Wygodny w użyciu preparat perfekcyjnie usuwa zabrudzenia pozostawiając na czyszczonych powierzchniach piękny połysk. Utrudnia osadzania się kurzu, dzięki czemu meble pozostają czyste jeszcze przez długi czas po sprzątaniu.
Capacity: 300 ml
Buy in the online store
Description
Produkt dokładnie likwiduje zanieczyszczenia pozostawiając meble czyste i błyszczące. Wyróżnia się świetnymi właściwościami pielęgnacyjnymi. Na powierzchniach pozostawia delikatną, niewidoczną warstwę antystatyczną, która utrudnia ponowne osadzanie się kurzu. Jest łatwy w aplikacji, a przy tym bardzo przyjemnie pachnie.
How to use
Rozpyl płyn na miękką ściereczkę i wytrzyj nią czyszczoną powierzchnię. Poleruj aż do uzyskania połysku.
Are you looking for other products?
See products for
Select from the list
Universal cleaning
Disinfection
Dishwashing
Kitchen cleaning
Bathroom cleaning
Floor cleaning
Floor polishing
Specialist cleaning
Furniture care and maintenance
Window, mirror and screen cleaning
Чистка ковров
Allergen control
Tombstone cleaning and maintenance
Cloths and wipers
Scented sachets
Economic agents
Pranie i płukanie