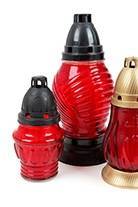 SIDOLUX
Liquid for protecting and shining tombstones
A product designed for tombstones made of stone, terrazzo and marble. Thanks to a special polymer layer, it gives the surfaces a shine without polishing and protects it from damage.
Capacity: 250 ml
Buy in the online store
Description
The liquid creates a polymer layer on the tombstone, which makes the surface shine. Polymers provide a kind of protective barrier that neither water, nor dirt, nor leaves or tiny sticks falling on the monument can force through. It protects the tombstone from dirt, scratches and harmful effects of water, while masking small scratches. Product closed in a convenient bottle is easy to apply.
How to use
Clean the surface with Sidolux tombstone cleaner cream. Then apply the product on the surface, spread it evenly over the whole tombstone and let it dry. In order to obtain high gloss, apply 2-3 layers on the monument. Remember to apply the next portions of the product only after the previously applied layer has dried.
Are you looking for other products?
See products for
Select from the list
Disinfection
Dishwashing
Kitchen cleaning
Bathroom cleaning
Universal cleaning
Floor cleaning
Floor polishing
Specialist cleaning
Furniture care and maintenance
Window, mirror and screen cleaning
100% natural products
Чистка ковров
Allergen control
Tombstone cleaning and maintenance
Cloths and wipers
Scented sachets
Economic agents