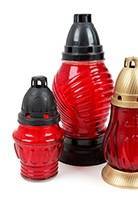 SIDOLUX
Tombstone cleaner and care liquid
It perfectly cleans and restores the shine of granite monuments without leaving streaks on them. It protects tombstones from dirt and damage and is convenient to use.
Capacity: 250 ml
Buy in the online store
Description
The liquid is perfect for removing typical dirt on monuments made of granite and other high-gloss materials. It removes rust marks, paraffin wax, moss, etc. accurately and quickly. Thanks to the formula enriched with silicone compounds, it spreads perfectly on the surface. It forms a microfilm on it, which protects against water, dirt penetration and scratches. A handy bottle with an atomizer makes the application on the tombstone comfortable and trouble-free.
How to use
Shake the bottle before use. Spray the surface with liquid, then clean the monument with a cloth, sponge or brush.
Are you looking for other products?
See products for
Select from the list
Disinfection
Dishwashing
Kitchen cleaning
Bathroom cleaning
Universal cleaning
Floor cleaning
Floor polishing
Specialist cleaning
Furniture care and maintenance
Window, mirror and screen cleaning
100% natural products
Чистка ковров
Allergen control
Tombstone cleaning and maintenance
Cloths and wipers
Scented sachets
Economic agents