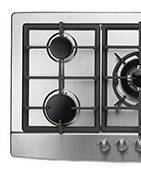 SIDOLUX PROFI
Degreaser
Precise removal of dirt and greases from surfaces. It is great to use in the house, garage and garden. It dissolves even engrained and burnt fat flawlessly.
Capacity: 750 ml
Buy in the online store
Description
It perfectly removes greasy stains, both of plant, animal and industrial origin, as well as residual dirt. It professionally dissolves and eliminates even hard to remove grease or burnt fat. It is perfect for cleaning kitchens, car parts and tools. It thoroughly degreases microwave ovens, grills, ovens, ventilation hoods, floors, dishes and kitchen appliances, as well as desks, office equipment, plastic furniture, car and motorcycle parts, mowers and other items.
How to use
Spray the surface cleaned with the product, leave it for a few minutes, then wipe it with a damp cloth or sponge and polish it dry.
Are you looking for other products?
See products for
Select from the list
Disinfection
Dishwashing
Kitchen cleaning
Bathroom cleaning
Universal cleaning
Floor cleaning
Floor polishing
Specialist cleaning
Furniture care and maintenance
Window, mirror and screen cleaning
100% natural products
Чистка ковров
Allergen control
Tombstone cleaning and maintenance
Cloths and wipers
Scented sachets
Economic agents