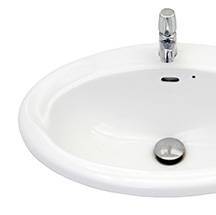 SIDOLUX PROFI
Descaler
It thoroughly removes limescale, sediments, dirt, soap and cosmetic residues. It can safely be used on various types of materials. It not only cleans, but also protects surfaces from new sediments.
Capacity: 750 ml
Buy in the online store
Description
A professional cleaning product, especially for bathrooms and sanitary facilities. It quickly and precisely removes water scale, sediments or lime, cement, urine and rust stains. It is also perfect for removing soap and cosmetic residues from the surface of tiles, mirrors, fittings, shower enclosures, bathtubs and washbasins. Sidolux Profi descaler can be used on glass, plastic, stainless steel, ceramics, white acryl, porcelain, synthetic resin, chromium-plated, enamelled and glazed surfaces. The product leaves them clean, fresh and shiny. It also protects surfaces against scale build-up.
How to use
Spray the surface cleaned with the product, leave it for a few minutes, then wipe it with a damp cloth or sponge and polish it dry. Important! Do not apply to marble or dolomite tiles. In the case of surfaces with unknown resistance, you should test the product by applying it with a sponge on a hidden area. After a few minutes, assess the condition of the surface, there should be no changes.
Are you looking for other products?
See products for
Select from the list
Universal cleaning
Disinfection
Dishwashing
Kitchen cleaning
Bathroom cleaning
Floor cleaning
Floor polishing
Specialist cleaning
Furniture care and maintenance
Window, mirror and screen cleaning
Чистка ковров
Allergen control
Tombstone cleaning and maintenance
Cloths and wipers
Scented sachets
Economic agents
Pranie i płukanie